Beginner's Photography Class
May 14 @ 9:00 am

-

11:30 am

$60.00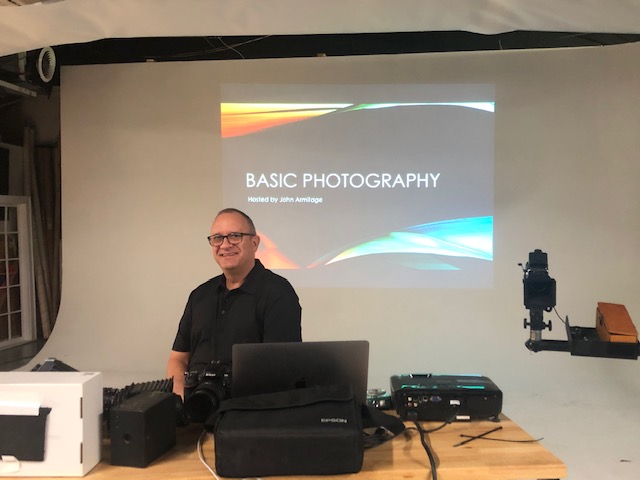 Beginner's Photography Class
The beginner's photography class is designed to familiarize students with their camera and its basic functions. Students will explore how these functions work together to create their ideal image.
WHO SHOULD TAKE THIS CLASS
Perfect for those who dabble in photography as a hobby or aspiring students who want to build a solid foundation before starting their creative journey.
TIME INVESTMENT
The studio will open at 9:00 am. The class will start from 9:00 am to 11:30 pm.
ABOUT THE INSTRUCTOR
John Armitage is a master photographer with over 30+ years of experience in high-end digital imagery, product photography, photo branding, and post-production work. His love for what he does shines through with extensive knowledge of his craft and desire to pass down his knowledge to the next generation of photographers.
SYLLABUS: BEGINNERS PHOTOGRAPHY CLASS
Brief History of Photography
The Great Masters
Processes
Film vs. Digital
What is the camera? From pinhole to large format cameras.
How the medium has changed and how it has remained the same
What are the principal mechanisms of the camera?
Film speed
Shutter speed
Aperture
Primary and secondary functions of the camera's mechanisms
Primary function
Secondary function
Understand how the camera meters.
Middle gray
Gray card
Color checker
Light color and temperature
Daylight
Tungsten
Kelvin degree
Digital camera functions
Aperture priority
Shutter priority
Manual
Lighting
Ambient light
Flash/strobe lighting
Tips for better photographs
Exposure rules
Composition
Looking through your camera or not
Assignments
Recap and questions